Cyber Security Summit – October 28-30 – Discounts for (ISC)2
Early-bird pricing for the Cyber Security Summit ends next week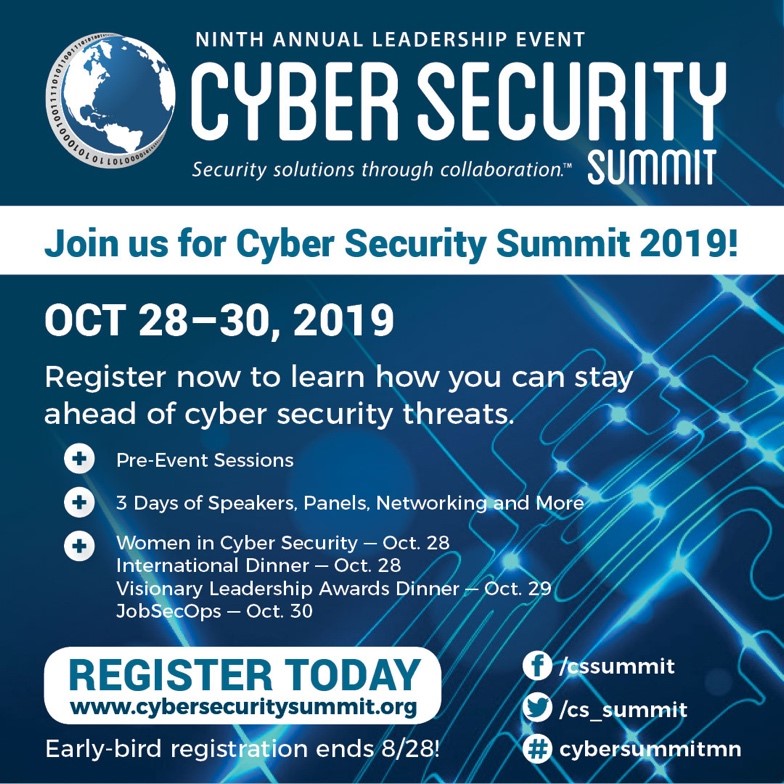 We invite you to join us for the ninth annual Cyber Security Summit. Enter the promo code 15ISC2, click "Apply" and receive 15% off your registration.
After Aug. 28, pricing will increase for most registration packages and options, including the VIP All Access Pass.  The Cyber Security Summit is the premier 2019 event to meet with and learn from top leaders in cyber security from throughout the U.S.  Programming is being planned by the Cyber Security Summit Think Tank, whose members represent the 16 critical infrastructures.
Available for only $39 through Aug. 28, Cyber Security for Small and Mid-Size Businesses will focus on the unique needs of small businesses.   As Summit co-founder Eileen Manning stresses in the cover story for Upsize Magazine, cyber security is vital for small businesses that work with larger companies, which require it, — not to mention for pure survival.
Register today to save up to $300 with Early-bird pricing.
About the Cyber Security Summit
The Ninth Annual Cyber Security Summit, "Pushing the Cyber Security Envelope," takes place Oct. 28-30, 2019, at the Minneapolis Convention Center in Minneapolis, Minn.   To stay up to date on the Summit and top cyber security issues, follow the Cyber Security Summit on social media: Twitter, Facebook, LinkedIn, YouTube.  Follow the hashtag #cybersummitMN for the latest conversations on this top matter.  For details, visit https://cybersecuritysummit.org/.